Background
I've only recently been dabbling in steampunk, but my understanding is we have a small community right here in Melbourne. It's not as big as goth but there is a fair amount of cross over in terms of fashion because of the gothic penchant for the Victorian. Many goths do cross over, and did on the night.
I predict that steampunk is the next big thing in international subcultures to influence the mainstream. Over the last year I've seen a slowly growing wave of interest and coverage. The subculture is already being mined by the likes of
Jean Paul Gaultier
in his most recent collections
AW08-09 here
and to a lesser degree
SS09 here
. It's just a matter of time for it to trickle down.
Due to the hectic time constraints of my job in the lead up to Christmas I did not have the time to organise a new gown of any sort. Instead I accessorised my Victorian goth coordinates. I customised a paper mache mask (see end of post) and made a
steampunk, velvet choker
.
The Ball
The first
Euchronia
, steampunk ball held on new year's eve 2008 was quite fabulous! I am looking forward to attending the next one.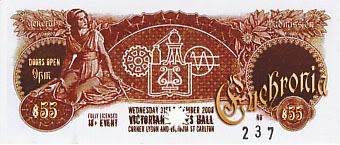 As I expected the DJing was by goths and a large portion of the well to exquisitely dressed, costumed crowd were goths. It made sense that the music played appealed to this audience. There were also performance artists of a vaudeville nature though to be honest many of them didn't appeal to me. I quite liked the solo performance by one of the belly dancers. The live bands were definitely enjoyable particularly Dandylion Wine whose rendition of 'Magic Dance' from the 'Labyrinth' soundtrack was a jolly good rollick!
No photography was allowed according to the ticket unless prior arrangement was made with organisers. I disagree with this stance. I presume it was to ensure the paid services of the official photographer since this is not a sacred venue, nor would any artworks be violated by flash photography. If there were lots of photographs from the event out there, a range of people over many websites could help promote it for free thus ensuring a bigger result for the next one. It works for the Annual Labyrinth Ball over in the America, and the new Labyrinth ball here.
The event took up 3 rooms over which there was a chill out space with professional photography*, 2 dance floor areas and stages. The main performance room had the main bar. The cocktail list was decent and well priced with free water and glasses provided. Delicious gourmet party pies were also available. All rooms were steampunked with handmade decor ranging from sculpted dirigibles to stencil art. As a venue it was an excellent choice to host this event. I expect a slightly bigger one may be required for the next one! We were a bit surprised it ended at 3am! We just wanted the fun to continue :)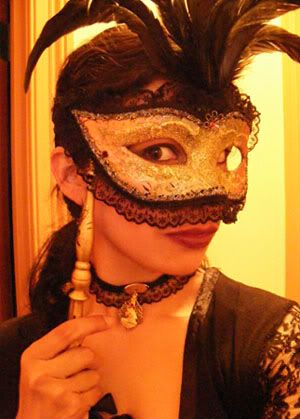 Coming soon: A How to Customise a Mask for the above result
*Prints available for sale at Euchronia's website.