Art. Goth. Steampunk. Etiquette. Helpful Tips. Green Hints. Natural History. Recipes. Reviews. Links. Curious & Vintage Clippings. Odd Objects. Macros & Vintage LOLs
Tuesday, July 22, 2008
Inspired by the Terminator hand from T2, made from
Zoobs
@
Socrates
,
Highpoint
Maribyrnong [/plug] ;)
Tuesday, July 08, 2008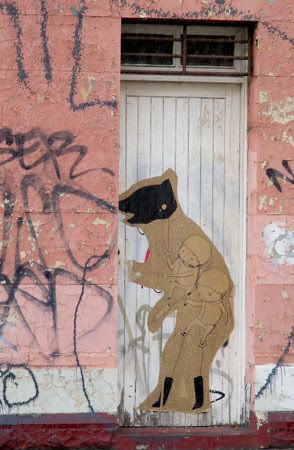 A Stalking Bear

Ghostpatrol

paper door art

At city end of Brunswick Street near Victoria Parade, Melbourne
Ghostpatrol
is one of those artists whose work I loved at first sight, and upon seeing more of it love more still. His inspirations include puppetry, children's fairytales, Beatrix Potter, Star Wars, computer games, and characters from pop culture.
You can find his work both in galleries that market to the younger art buyer as well as in the street. His gallery pieces are both 2D drawings and paintings, as well as soft 3D sculptures. His recent works on arrays of pencils are unusual in that the pencils are used as a substrate. Some of his street art is small sticker art, often tucked away and carefully placed in an amusing fashion - a reward for the sharp eyed observer. Others like this brown paper installation, and spray painted murals are considerably bigger. The best areas of Melbourne to keep an eye for his street installations are Fitzroy and the CBD.