Doing random google searches without anything in particular in mind usually leads me to something cool. This time it was 'ceramic artist'* which led to
Rebekah Bogard
's curvaceous, sensual and colourful works. I particularly liked the detail and texture of her Scientific Series which seems to have been inspired by
nudibranchs
. Those are awesome critters to start with. The execution is spot on.
Intrigue

2001
9" x 7" x 6"
earthernware, underglaze, glaze
image credit: Rebekah Bogard
Later works are cute and colourful animals with a toy aesthetic about them. This is teamed with a subtle sensuality, pain or other human experience which can be a fraction unsettling at first, yet pleasing because the cuteness is a hook that reels you in.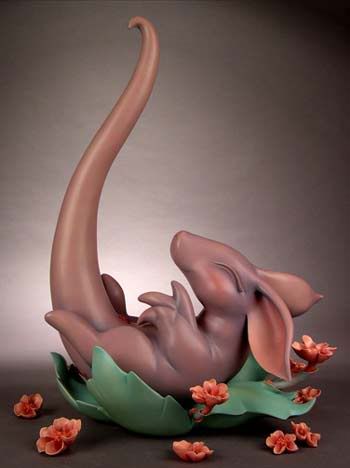 Happiness

2006
27" x 21" x 16"
earthenware, underglaze
image credit: Rebekah Bogard
*Technically a ceramic is a cast item, while pottery is clay that is hand formed.