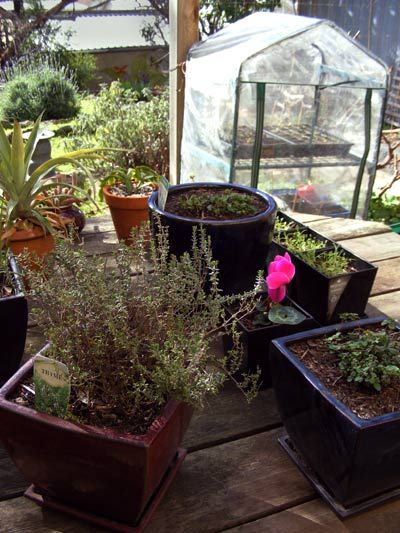 Potted herbs on an outdoor table are easy to look after and harvest.
My favourite garden herbs:
Thyme is a perennial and a pretty little plant. Tasty sprinkled on buttered, toasted bread but also in more complex things!
Oregano is also a perennial but needs to be trimmed back hard after flowering before returning in the spring flush with leaves. Lovely in pasta dishes and on pizza.
Chives and garlic chives are handy perennials when you want an onion or garlic hint without the full punch. Garlic chives are particularly easy to grow.
Italian parsley is an annual that grows so easily from seed that you need never buy fresh parsley again. Even a black thumb should be able to grow some! Cut some excess by the stalk, bundle with string to hang dry in a dark, warm place so that you will have some all year round. Better still, let some go to seed and save the seed to plant at intervals so you always have harvestable amounts.
Sweet Basil is annual you can grow from seed or buy a punnet full of seedlings. I prefer the punnet option because I want them NOW. Well soon anyway. The fragrance is divine. Freeze your excess leaves to add to pasta sauces and pestos over winter after your plants have died.