Hosted by Melbourne CBD's most unique shop Wunderkammer,
Paper Butterflies
will be a showcase of my most recent works. Some have been shown previously while others, notably the
Paper Butterflies
, have been created specifically for this event.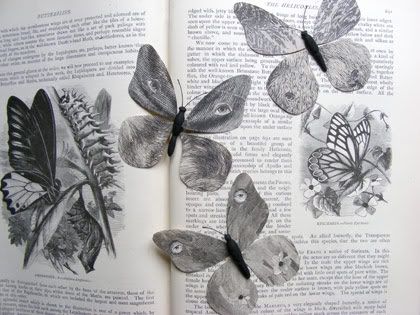 Paper butterflies, in progress.
mixed media
About Wunderkammer:

'The shop specialises in science and natural history. In the collection are antique botanical prints, anatomical models, specimens preserved in vintage glass canisters, fossils, medical instruments, beetles and butterflies in hand blown specimen domes: the scope of Wunderkammer is as broad as the scope of human scientific enquiry. The owner of Wunderkammer, Ray Meyer, chooses the objects for the collection based on standards of beauty, rarity, historical or educational value and, of course, the ability to inspire wonder. '
Paper Butterflies
Exploring our relationship with nature and the ephemeral.
Oct 23 to Nov 24th 2009
OPENING NIGHT: Friday 23rd October from 6pm
Wunderkammer
439 Lonsdale Street
Melbourne, Australia
Opening Hours:
Tuesday-Friday 10AM-6PM
Saturday 10AM-4PM
Enquiries:
96424694
info@wunderkammer.com.au