Horace the Helicopter
is by Eileen Ryder (copyright is 1958 but no year of publication is listed) with illustrations by John Ryan. I believe this
is
the
John Ryan
, creator of Captain Pugwash who died yesterday. The time period fits and the drawing style of human figures in particular - I know I haven't included many - is the same. It's fitting that I should decide to share these pictures now, even though I had no idea who he was or that he had passed away. I couldn't find other images or information on the net for this book so now here they are!
Horace is a little helicopter who realises how special he is, even though he isn't a big plane, through a series of helpful tasks. I bought this charmingly illustrated book a few years ago from an op shop. This is a selection of my favourite pictures (wrap around text has been removed) from it.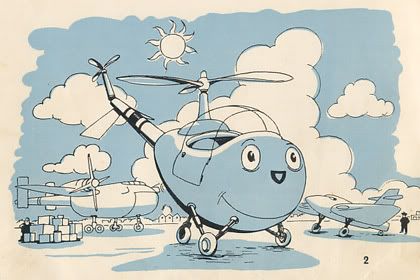 'There was once a little helicopter called Horace who lived in a house [sic] on an airfield.'
'... he was very lonely at the airfield because the
other aeroplanes
did not speak to him very much, and they used to make fun of him ...'
'... Horace belonged to a man called John ... '
'It looked very pretty, but Horace, all warm and snug in his hangar,
was glad he wasn't out in it.'
'"But it's snowing," said Horace. "I don't like snow, it's too cold."'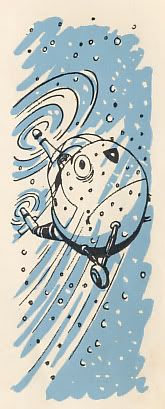 'It got colder and colder and Horace began to feel a little tired
because he was carrying such a heavy weight.'

'All the other planes were so busy that
he hardly saw them for the next two or three days...'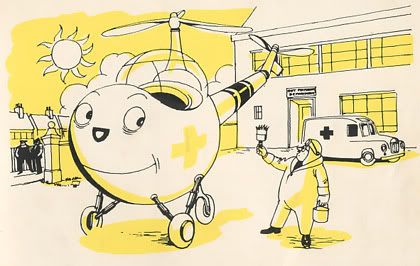 'Then he painted a big cross on the side of Horace's cabin.
"Now you really look like an ambulance," said John.
"I wonder what the other aeroplanes will say," said Horace.
...they all agreed he deserved it...
Horace thought he would always have the cross on him, but it wasn't very good paint, and the next time he went out in the rain, it all washed off.
"Never mind," said Horace, "I was an ambulance with a big cross on me, just for a day."'