This is one of several of my new, sculptural works that will be featured at Brunswick Arts Space from next Friday.
Lime and Soda
mixed media, framed sculpture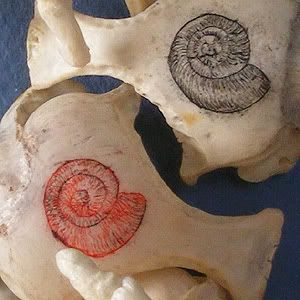 Lime and Soda
, detail showing
scrimshaw
Lime and Soda
is about how the increased amount carbon dioxide in the atmosphere affects our oceans. The ocean naturally absorbs carbon dioxide but if it continues to absorb at the current rate we will see acidification. This affects the entire ocean food chain from the tiniest creatures upwards due to the negative affect on seashell integrity. The scrimshawed, seagull craniums depict a carbonic acid molecule and the degradation* of a seashell in simulated, acidified ocean water.
Slide Rules Have No Place At My Party.
An exhibition of small scale sculpture and other media.
Curated by Monica Zanchetta.
Opening July 17th, 6-9pm
17 to 31 July 2009
Brunswick Arts Space
2a Little Breese Street
Brunswick, Australia
Gallery Hours: 12-5 Thursday to Sunday
I will post images of artwork from this show when it's over,
here
For those of visiting the show at any point, please note that from my bat sculptures, 10% of the proceeds will go to the
Tolga Bat Hospital
in Queensland. So you can help a poor artist AND an orphaned or injured bat!
*Based on photographs from National Geographic, 2007. Click for further reading