Rule 1
All plazas of significance will feature a statue of a man on a horse.
Rule 2
In Winter, you can't walk down a street during the day without encountering a woman in a fur coat. She will always be:
Wearing a full length coat;
Old;
Accompanied by someone, usually on their arm.
She will usually be a very slow walker.
Rule 3
The grandeur of a significant building is not complete without a clock built into its architecture.
Rule 4
The throne room will always be the most impressive room in a palace. It was my favourite room at the Palacio Real de Madrid. The armory had some beautifully crafted pieces including an especially fine pair of gloves from a suit of armour.
Other things of note
O
Non-smokers are the exception.
O
Snub nosed dogs like French bull terriers, British bulldogs and pugs are quite popular, followed by cocker spaniels.
O
Medieval religious art gets boring VERY quickly. This happened last time I was overseas as well. Here in Australia you don't see much of it, so it's special. In Europe it's abundant so you soon lose interest.
Recommendations
O
Goat's cheese is good.
O
Seafood paella is a winner. Don't be afraid to try the squid ink version. It's tasty :)
O
Have tapas at least once; try the garlic prawns, tortilla and
potato bravas
O
Have some wine with dinner.
O
Splurge on dessert. Chocolate in 3 textures was excellent.
O
The best
chocolate con churros
can only be found at a
chocolateria
. Only some of them have churros available all day. They are best when they are freshly fried (morning). The churros we tried back here in Melbourne were better :/ The hot chocolate was rather good.
O
Do not rely on websites for subcultural information unless they are clearly being updated ie. Club website showing current events.
O
Don't rely on a guidebook for everything. Explore things for yourself. Have a wander down the side streets. There is such a satisfaction to be had, in discovering something unusual on your own.
O
Get a tourist train ticket. You can walk between most of the things you want to check out. However it's nice to have the unlimited use of the trains for things further apart or when you want to save your feet. It's an excellent train system with clean, punctual, frequent trains.
O
The Alcazar of Segovia (regional Spain, catch train from Madrid): pay the little bit extra on your entry ticket to gain access to the top. Like the view from most old buildings you will be breathless from climbing a steep, spiral stairwell. Rest assured it is breathtaking for a more sublime reason:
Art Museums
The 3 in 1 ticket for the 3 major art museums (Museo Del Prado, Centro de Arte Reina Sofia, Museo Thyssen-Bornemisza) is good value.
The Prado was a must see for me, due to Bosch's 'Garden of Earthly Delights'. Like all great paintings you can't get very close to it, so I was squinting to see some more detail. You will see more in a book. Nonetheless it was special to stand in front of this amazing work of art. The Prado also has a few other works by Bosch. Plus a strange still life of a dead lamb, its little feet tied together. They didn't have a postcard of it. You can take photos but no flash please! Like that ever stopped people :( Don't make the special effort to get to the upper floor at one end of the building (near works by Goya), unless you like kitsch, Spanish oil paintings of unremarkable technique.
The Thyssen-Bornemisza is like a walk-through art history. They have a broad, chronologically hung collection with an example of work by most of the great artists. There's a few nice Impressionist pieces, though none of Pointilism, a cute Miro on paper and a very fine Dali ('Dream caused by the flight of a bee around a pomegranate'). The gift shop was larger than other museum shops we saw, with a good range of stock.
Centro de Arte Reina Sofia has a good selection of Dali. Be aware that you cloak your bag
before
you buy your ticket.
Shopping
Chueca's Calle de Fuencarral has some interesting shops. It's definitely worthwhile exploring the side streets in this area.
We were looking in the window of an exotic petshop on the way back from a museum near Atocha. There were the usual petshop things, a puppy, some lop eared rabbits and some ginger kittens. Then a head popped up amongst the 'kittens'. Oh, that's no kitten, that's a meerkat! I was so surprised. After a few minutes of watching them, M asked me when I'd be moving to Spain :) When we got back to the hotel I started wondering how much they were.
On another day we went in. While I bided my time to enquire after the price* I watched them some more. The puppy in the enclosure next to them looked a bit mopey**. I reckon it was miffed about all the attention the meerkats had.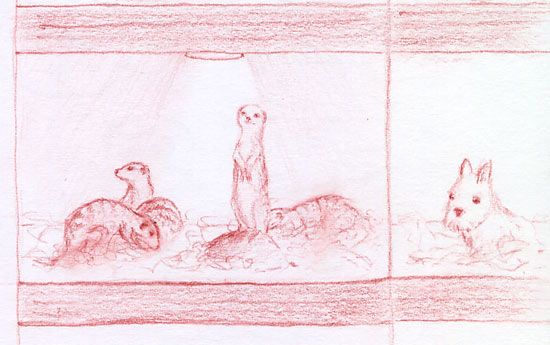 Meerkats in Atocha, drawing enlarged
pencil
There was a small gap (about 7mm) in the door of the enclosure. I put my finger to it and one inquisitive meerkat sniffed then touched my finger tip! I was gleefully stoked. I'd touched a meerkat :*D For the next few days, every so often I would say to M with a big grin on my face
"I touched a meerkat." Its paw pad was soft like my late guinea pigs'. Its claws, though pointy, were not sharp like a cat's.
Website of the Day
Fellow Earthlings' Wildlife Center aka chock full o' meerkat goodness!
*1500 euros. I'm glad they're not cheap. Stops people buying them on a whim. Though you would need to buy the whole troupe (at least 4) if they were to be happy pets. How cool would it be to have a big hill on your back yard and a little troupe of meerkats scurrying about?
**Though maybe I was anthropomising a typical, solitary puppy face: big, brown eyes and a doggy pout, chin down not up.