Listening to: Into the Nightlife by Cyndi Lauper, from Bring Ya to the Brink
I have been meaning to write about one of my favourite Australian book illustrators*, Shaun Tan for some time now and have been pipped to the post! Heather McDougal has eloquently blogged
on Cabinet of Wonders about

The Arrival
. Via the comments page you can find this rather
wonderful little documentary/interview with Shaun
about the upcoming animation of
The Lost Thing
and the artistic process.
The Arrival
is my favourite Shaun Tan graphic novel, followed by
The Lost Thing
so I'm finding the prospect of that being animated, rather exciting!
What I adore about Shaun's unique work is the quirkiness, aged rather than shiney and new textures, details, fantastic creature design, contraptions and landscapes. It's a little bit steampunk without referencing any period in particular and in that sense, timeless.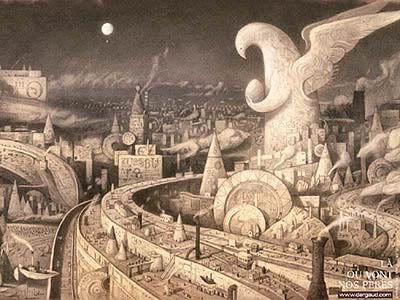 Print sized illustrations from The Arrival
here
.
Website of the Day
Shaun Tan
*The other is Melbourne based,
Graeme Base
whose work I have had the pleasure of growing up with and seeing in the flesh at an exhibition recently. I got some books signed for Christmas including the delightful '
The Art of Graeme Base
' :)