The regal splendour of
Versailles, France is about to house a major retrospective exhibition
by sculptor Jeff Koons. It is a strange choice of artist for this Baroque venue, both in nationality and style. Many of the locals aren't happy about it at all. Having perused some of the 17 works online in context I am inclined to understand their view point. Some of these pieces looks cheap* and nasty in these luxurious surrounds: namely the full colour inflatable pool toys. The overtly kitsch, gold accented sculpture of Michael Jackson and Bubbles is a particularly controversial inclusion. I think that one is going to be awful where ever it's exhibited!
However other sculptures displayed at Versailles, both indoors and in the grounds, seem to work in a surreal way. Take the exuberantly pink
Balloon Dog
. At Versailles this piece is being displayed indoors - unlike in my photograph below - however going by the shot taken of it there I feel that it works.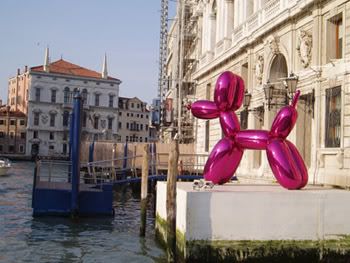 Balloon Dog in Venice, 2007
digital photograph
It's a bit silly and out of place in these old surrounds, but it's fun. Must art bow its hat to history with great reverence? So what if it isn't high brow? That is not what defines art. Sometimes we forget that visual art doesn't have to be serious or meaningful. It can entertain and make you smile or chuckle as well.
Koons' sculptures are created to stand out and look a little odd anywhere. The oversized scale and mirror surface he uses in many of the pieces ensure that. This style is a modern expression of flashy luxury which may well have been appreciated by King Louis XIV himself!

*They are actually
really
expensive of course. Koons is the most expensive living artist. British Damien Hirst -also known to court a bit of kitsch but more so controversy - is the world's second most expensive living artist. This is based on sales of their two most expensive works in 2007.