Back in June in a cycling accident, a car cut me off and my arm was broken, in a sling. I got my brother to help with things around the house including cutting up a whole pumpkin.
Whole pumpkins are an easy way to avoid plastic while still enjoying pumpkin. They have a good shelf life uncut if stored in a cool, dark place. After cutting the pieces will keep for days in a container the fridge, or you can roast then freeze it. I do a bit of both.
My brother improvised the following technique using my paring knife which is usually a big no-no with pumpkins. I was a little worried he'd snap it! I was so impressed with the process, I have documented myself doing it - with a 16cm chef's knife - so you can. Essentially you carve out just the stalk and cut it up into segments and clean up as usual. The key is how you deal with the stalk as it's the hardest part to cut through. With this you don't cut the stalk at all.
Use the tip of the knife to make a series of cuts about an inch deep, close around the stem angled towards the centre. The number of incisions determines the shape created and is dependent on the diameter of the stem. In this case, for a Kent aka Japanese pumpkin, it's in the shape of a hexagon. Lift the stalk out and you have a pumpkin diamond! Once the stem is gone it's like cutting a big round carrot. Cut along each groove into wedges then do whatever it is you do with pumpkin.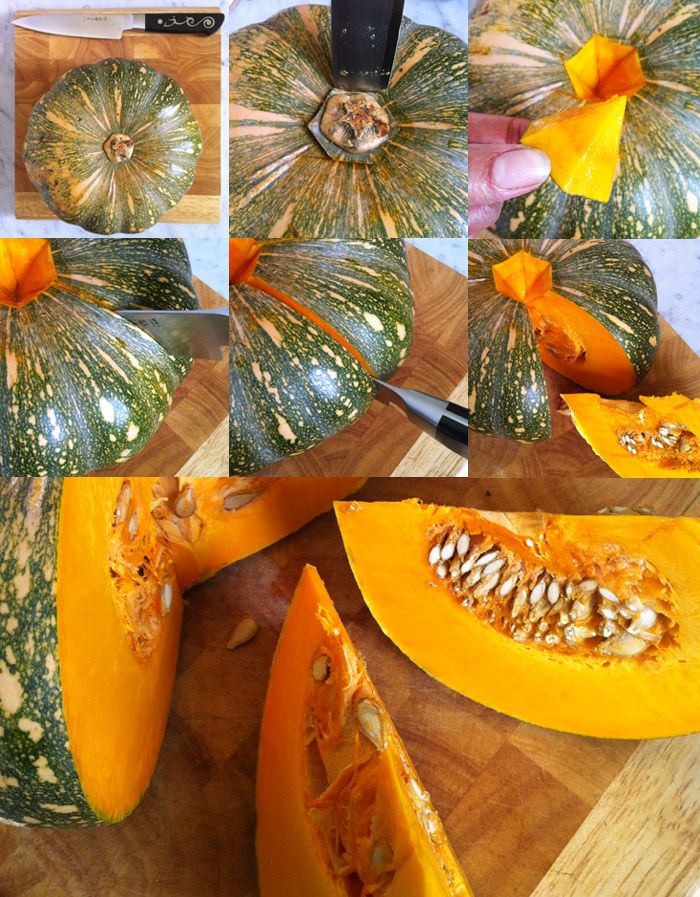 I use a peeler rather than a knife to peel, as there is less flesh wasted, it's quicker and safer. Hold pumpkin wedge in one hand and start peeling from the corner, then flip it around to do the other end. An inline peeler as seen here or a Y shaped peeler are equally good; it just depends on what is comfortable for you.