This recipe is for a basic Moroccan style preserved lemon. The actual recipe is very easy but the technique for stuffing the lemons can be fiddly and potentially wasteful so I'd like to visually share my technique with you to help you get the best result and prettiest jars!
The finished product goes beautifully with meat and fish. Most Morrocan recipes call for only the rinsed and finely choped rind but if you like things extra lemony you can try using the pulp as well in your cooking.
You will need:
1 wide mouthed 1L jar, sterilised*
up to 12 or so, small, thin skinned lemons
1/2 tsp peppercorns
1 bay leaf
1/2 cup rock salt
Some of the lemons will be preserved in the jar/s others will be juiced only. Start with your preserving lemons first which the instructions will refer to.
Gently wash lemons in warm water with a soft bristled brush. This is to remove the natural waxes on the skin.
Hold lemon, stalk end down and use a small knife cut into lengthwise quarters but ensure quarters are still joined at the base like the petals of a flower.
Over your chopping board, put a small amount of rock salt into the lemon quarters to seperate them from each other like this:
Hold the lemon on its side and prise the quarters apart to fill. Use the side of the spoon to fill and push in the salt. Give it a squeeze to hold in place as you continue to repeat between the other sections.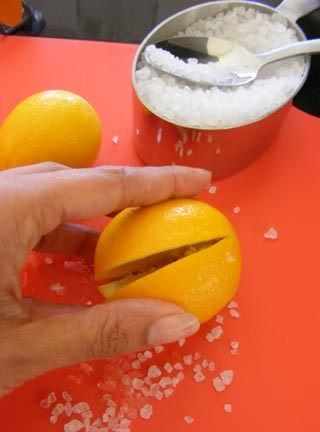 This isn't full yet! I have found it's best to gradually stuff them with salt rather than try to get it all in at once.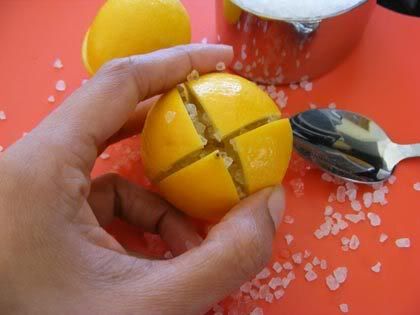 A fully stuffed lemon.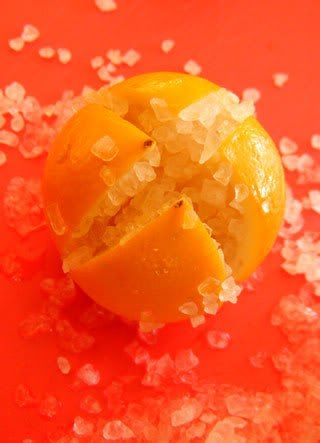 Put the filled lemons into the jar one by one. You should squish them in to truly fill the jar and release some of the juice. When the jar is half full add the peppercorns and bayleaf. Once it's full of lemons you can juice the remaining lemons. Add the remaining salt, including any salt spilling from the stuffing process, to the jar. Cover lemons with lemon juice. Close and gently shake. Store in a cool, dark place for 6 weeks, shaking the jar once a week. The liquid should eventually clear up and the lemon pith will turn yellow. Then, it's ready to cook with! Store in refridgerator for around 6 months.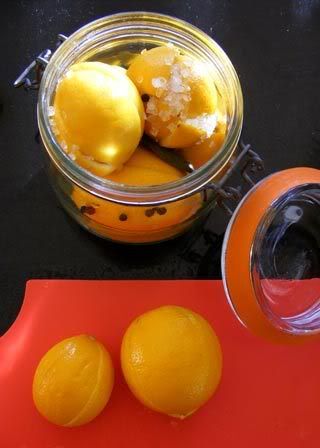 You can divide the ingredients between more than one jar so there's one for you and one for a gift. I've used a 500ml, La Parfait jar and an old olive jar. The tall jar should fit another lemon to really cram it full but I wanted it to be pretty :P
*STERILISING JARS must be done to ensure the shelf life and food safety of your preserve.
There are a few ways to do it, but never use a towel to dry! Also note that this is only part of what you need to do when making jam or other hot mixtures, in which case the
boiling water bath
method is necessary.
Anyhoo:
1 You can wash them in hot soapy water then dry them upside down on a clean tray, in a cool oven (100-130C) for 15 minutes. OR
2 My manager who has made prize winning jellies and preserves recommends the microwave technique because it's quick and easy. Fill jars with hot water and microwave for a couple of minutes. Then dry in the oven as above or for this recipe, empty and allow to cool a little. OR
3 Putting jars through the dishwasher on a hot cycle will also sterilise them. Immerse the rubber seals and metal parts in boiling water for a few minutes until you're ready to use them. OR
4 Fully immerse in boiling water for 10 minutes then oven dry.
Metal lids and rubber seals can be immersed in boiling water for 5 minutes.