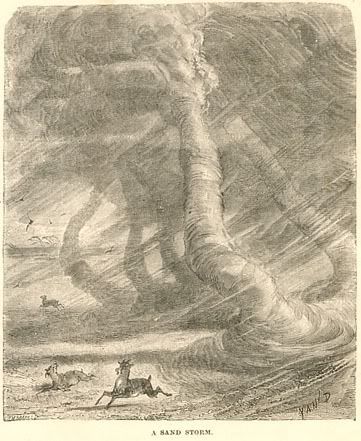 A SAND STORM*
by Van'Dargent and Demarle (??)
Depiction of a sand storm on The Llanos plains or Los Llanos (meaning the flat plains), of Colombia and Venezuela in South America.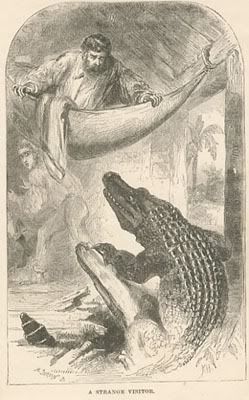 A STRANGE VISITOR*
by M Jackson Sr(?) & KH
From the same region a dormant crocodile buried in mud, is uncovered and awakened by the monsoon** rains. Given the location of the hypothetical story behind this picture, it's most likely to be an
Orinoco Crocodile
. This is the largest predator of the South American continent, reaching lengths of up to 20ft or 6 metres! Unfortunately due to extensive hunting for its leather during the 19th and 20th centuries, and now due to pollution, it is a critically endangered species. So any traveller like the ones depicted in this story would be indeed be privileged - as well as alarmed, naturally - to witness such an occurance today.
*Images from The World at Home, by Mary and Elizabeth Kirby, published by T. Nelson and Sons, London, 1888.
**Monsoon describes a particular, heavy, seasonal rainfall and is no longer considered a meteorological term specific to the India.