Last month we attended the
Guild of the Golden Owl
, annual Labyrinth Masquerade Ball. A huge improvement on last year in just the venue alone which was perfect for such an event. The Regal Ballroom is a gorgeous, classy, heritage ballroom, dressed in gold, cream and red with a soaring ceiling, and obligatory candelabras and crystal chandeliers.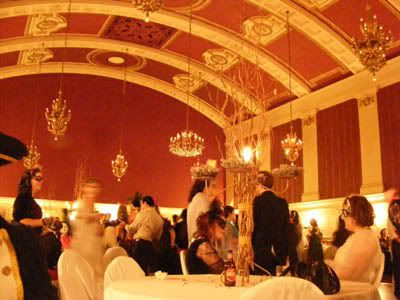 More so than last year, people made quite an effort with their costumes. We hired ours. I was going to wear a huge white wig ala Marie Antoinette - it's something I've wanted to do since seeing the movie with Kirsten Dunst - which is why I went for a very plain mask. However I couldn't get the wig to cooperate with my mask on the night! I wasn't aiming to win the Best Dressed prize* although the wig might have helped get me nominated. I did get plenty of compliments nonetheless which was nice.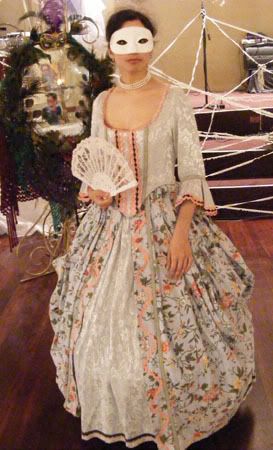 Musical chairs this year was bigger. There was no way I was going to play it in that skirt!
My dapper partner had been willing to wear his own snowy, faux, bouffant to match mine and had shaved off his side burns in preparation. I think he looked better without the wig anyway!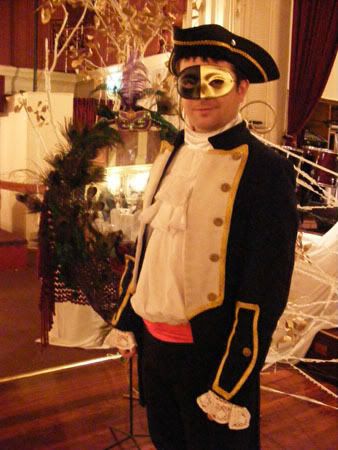 There wasn't as much Bowie played or Labyrinth soundtrack, and not all of the music was to my liking. Nonetheless I danced, and my skirt swished about in a bouncy way :)
The crew had put quite an effort together with the decor, staging an art show at the event, getting full colour flyers out. The nibblies were good too. Overall a fine night out I would recommend to anyone who loves the movie/relishes dressing up. I'm already thinking about what I'll do for my outfit next year!
*Thoughts on how to win the Best Dressed Prize at costume event
As someone who has awarded my own party guests with Best Dressed prizes I can tell you that
making your own outfit
goes a long way.
Attention to detail
and a
well coordinated outfit
from head to toe shows you have put thought and effort into it.
If dressed
as a character your cause may be supported by acting like the character
.***
For a big event like this one
you need to stand out from the crowd so avoid dark colours
.
However:
you can
accent dark colours
with bold colour/sparkly**/furry trims etc;
you can compensate for an all dark outfit by
going large
.
Big hair/wig, head dress**, skirts, wings***, coat, and mask are some of the ways you can stick out a bit both literally as visually.
**Best Dressed Lady wore mostly black overlaying red with a lovely sequinned head dress featuring red butterflies.
***Best Dressed Gent was a bird. He was flapping about and hugging people :)