Obey the Yellow
This post might not mean much to anyone outside of Melbourne, or perhaps it will be funnier because of it.
Background info
We have trams running on our roads and yellow lines and bumps to indicate where/when cars are allowed to drive on the tram track area. It's all very sensible, and exists to minimise delays to trams which have right of way.
Obey the Yellow
is a current Vic Roads campaign to raise awareness about these road rules unique to Victoria, and most vitally inner Melbourne.
Anyhooo back to this being amusing…
…I find the figure/mascot used in this campaign somewhat weird. While his build is definitely male he has a Ken doll, store mannequin genital bump. His bitumen black body has a bright yellow racing stripe from the top of his head, through his groin and along his inner legs to his feet.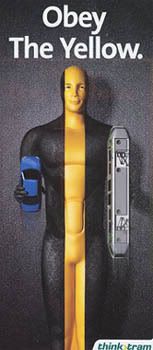 Image from brochure distributed on trams.


In a picture I saw this morning near Melbourne Central he was lying on his side, almost come hither style!
In the TV ads and on the website he morphs out of his CGI road like the T-1000 in Terminator 2, batting his non-existant eyelashes, smiling benevolently, as he swishes a little car about in his hand.
It's all just a bit odd.