Listening to Safety Dance by Men Without Hats
Julia deVille
is a New Zealand artist based in Melbourne, Australia. Last year I had the priviledge of seeing her work in the flesh as part of the touring show
Cicely & Colin Rigg Contemporary Design Award 2006.
This morning I got reaquainted with her work through discovering her steampunk flavoured
website.
Her works combine leather work, taxidermy and gold smithing skills. Most of it is wearable art. It's exquisitely detailed, often combining the remains of (naturally deceased) small mammals with precious and semi precious materials. A major inspiration is Memento Mori jewellery especially of the Victorian period. All of her works deal with mortality, which some may view as morbid, perhaps even grisly though this is not the intention. Instead DeVille is interested in exploring the fragility and value of life.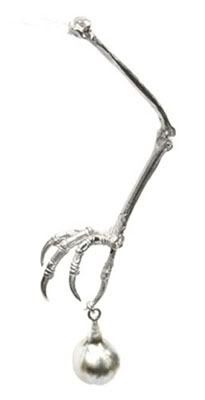 Brooch: Bird Claw 2006
Sterling silver, black rhodium plate, Keshi pearl
9 x 4 x 2 cm